"
Blue was a fanciful but sensible thing, like a platypus, or one of those sandwiches that had been cut into circles for a fancy tea party.
"

—Gansey
Blue Sargent

Biographical Information
Full name:

Blue Sargent

Age:
17 (as of TRB and TDT)
18 (as of BLLB)
Status:
Alive
Alias:

Jane (by Gansey)
Maggot, Sargent (by Ronan)
Ant (by Jesse)
Blue Lily (by Gwenllian)

Affiliation
Kind:

Half tree-light / Human

Occupation:

Student at Mountain View High School
Waitress at Nino's
Dog walker

Residence:
Relationships
Family:

Artemus (father)
Maura Sargent (mother)
Jimi (aunt)
Orla (cousin)
Neeve (half-aunt)

Romantic:

Richard Gansey III (boyfriend, her true love)
Adam Parrish (ex-boyfriend)

Physical Description
Gender:
Female
Hair color:
Black
Blue Sargent
 lives at 300 Fox Way with her mother, 
Maura Sargent
, and the other psychics. She lacks psychic abilities but rather increases others powers with her presence, a mirror. Blue befriends the Aglionby boys,
Richard Gansey III
,
Adam Parrish
, 
Ronan Lynch
and
Noah Czerny
, in their quest of finding Glendower.
She also befriends Aglionby student Henry Cheng in the midsts of The Raven King they plan to visit Venezuela.
Biography
Edit
Blue comes from a family of psychics and is the only resident of her house to lack this ability. When the people in her house are doing readings, she often attends them, as she makes things loud and gives extra energy. She is described as being a sort of magnet for the supernatural; the magnifying glass that focuses the sun.    
Her father disappeared right when she was born; his name, as Maura says near the end of The Raven Boys, was Artemus. No one knew where he went, or if he could help it. Maura met him after she, Calla, and Persephone had done a ritual. Her theory is that they released him somehow from Cabeswater, where she believes he was trapped. 
Personality
Edit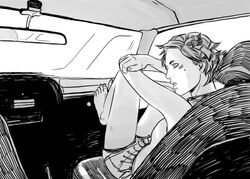 She is sarcastic. She's very opinionated, adventurous, independent, and sensible, despite her best tries to be otherwise. She loves nature and animals and likes dreaming about things like college, which she can't afford. Although she grew up rather ostracized because of her peculiar family, by the time she was a teenager, her strangeness became an asset and she's described as extremely cool. She's a feminist and refuses to be objectified by random men, or treated as a "girlfriend" and not a real friend by Adam. She's fiercely loyal to her friends, and she loves her family deeply, although she often feels like an outsider. She is hard-working and has multiple jobs.
Physical description
Edit
Blue is a short girl (about 5'0 tall) but despite this she is described as being compact. She has black spiky hair, cut into a bob that she styles carefully and pulls back with several of clips to make it look eccentric. Her skin is of a golden olive color. As of The Raven King, she has an injured eye.
Most of her clothes are hand made or sewn together.
Relationships
Edit
Richard Gansey
Edit
Gansey was at first considered just a play boy by her, but her view changed after she saw how he treated his friends.
Ronan Lynch
Edit
Adam Parrish
Edit
Noah Czerny
Edit
Henry Cheng
Edit
Appearances
Edit
If she kisses her true love, he will die.
Because of this, she avoided boys and dating for most of her life.
Her aura colour is blue, however it is not said whether that is where she got her name from. (Blue Lily, Lily Blue)
Gansey has nicknamed her Jane.
She had her first kiss with Noah
She used to like Adam and dated him for a while before they ended it.
She is represented by the Page of Cups. Maura says it is 'her' cup and she even resembles the picture on the Page of Cups card.
Ad blocker interference detected!
Wikia is a free-to-use site that makes money from advertising. We have a modified experience for viewers using ad blockers

Wikia is not accessible if you've made further modifications. Remove the custom ad blocker rule(s) and the page will load as expected.