The Raven Boys
Comments

9
27pages on
this wiki
The Raven Boys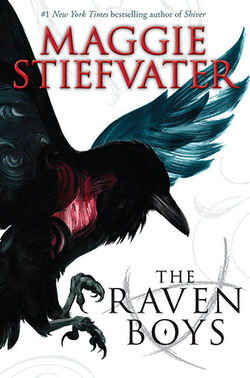 Genre(s)
Fantasy, Romance
Publisher
Scholastic Press
Publication Date
September 18th, 2012
The Raven Boys is the first book in The Raven Cycle by author Maggie Stiefvater. There will be three more books released after this book.
Every year, Blue Sargent stands next to her clairvoyant mother as the soon-to-be dead walk past. Blue herself never sees them—not until this year, when a boy emerges from the dark and speaks directly to her. His name is Gansey, and Blue soon discovers that he is a rich student at Aglionby, the local private school. Blue has a policy of staying away from Aglionby boys. Known as Raven Boys, they can only mean trouble.
But Gansey is different. He has it all—family money, good looks, devoted friends—but he's looking for much more. He is on a quest that has encompassed three other Raven Boys: Adam, the scholarship student who resents all the privilege around him; Ronan, the fierce soul who ranges from anger to despair; and Noah, the taciturn watcher of the four, who notices many things but says very little.
For as long as she can remember, Blue has been told by her psychic family that she will kill her true love. She never thought this would be a problem. But now, as her life becomes caught up in the strange and sinister world of the Raven Boys, she's not so sure anymore.
Prologue: Blue Sargent is the only person in her family that has no psychic abilities, and is always being told, since she was a little girl, that when she kisses her true love, he will die. Neeve, a famous TV psychic and Blue's mother's half sister, comes to town, she tells Blue straight away that this year, will be the year Blue will fall in love.
The story begins with Blue standing in a churchyard, along corpse road, with her 'half aunt' Neeve on the 24th April, St Mark's Eve. Where they begin to collect the names of people who will die in the next year, as Neeve can see them and Blue can't, Blue writes down the names. Until she is then shocked how she can see a spirit as she has never seen one before. She goes up and asks for his name, he replies 'Gansey'. Blue then asks, 'Is that all?',  and he replies 'That's all there is'.
The next day Richard 'Dick' Campbell Gansey III, who only goes by Gansey, phones his friend Ronan Lynch to tell him that his Camaro, nicknamed The Pig, has broken down and wants him and their friend Adam Parrish, to help him out. The night before Gansey had been out searching for the dead king Owain Glyndŵr, and had mysteriously managed to record the conversation between spirit Gansey and Blue. Adam and Ronan then arrive in Ronan's BMW, and Adam helps Gansey with the car while Ronan listens to the conversation on the recorder over and over. Adam then gives Gansey a number to a psychic to help them in their search.
Barrington Whelk, the Latin teacher at Aglionby Academy, was retrieving Latin homework. He is stopped by another teacher and is talking about the 'inseparable threesome' (Gansey, Adam and Ronan). He is then shocked to discover that Gansey is looking for the ley lines, as he was looking for them once too.
The next afternoon, Neeve scrys into a bowl of cran-grape juice to see how Gansey will die. This unnerves Blue's mother, Maura, as she thinks that scrying is unpredictable. But after, Neeve can only see that Gansey will disappear into blackness.
At Monmouth Manufacturing, where some of the boys live, Adam arrives with Ronan's older brother Declan Lynch and Declan's 'latest girlfriend' Ashley. Gansey and Ashley then talk about Welsh kings, Glendower in particular, and the legend, then Noah, one of the four raven boys, shakes Ashley's hand. After she exclaims how cold he is, he replies 'I've been dead seven years.' Ashley only giggles to that, until Ronan emerges from his room, which makes everyone fall silent. After Ronan says Declan is only using her for sex, Declan storms out with Ashley. This annoys Gansey, who suggests they go to Nino's Diner for pizza.
At Nino's diner, Blue, who's a waitressing there, sees Gansey and his group arrive, and insults the Raven boys in her head. She then gets a phone call from her mother, saying that Gansey had phoned and has booked a psychic appointment the next afternoon. After the phone call Gansey taps her on the shoulder to tell her, that his friend Adam, who is not the smudgy one, [Noah] and not the sulky one [Ronan] is interested in her. After disscussing that he [Gansey] will take care of an hour pay Blue will earn, she exclaims that she is not a prostitute. Gansey apologizes and goes back to his table.
After they had their pizza, Gansey gets Ronan to let off his anger outside, with Noah to babysit. While Gansey is paying for the pizza, and Adam looking for the 'evil not-a-prostitute waitress', Adam suggests that they might need to 'plug in' the Ley Lines for it to be detected easier. Noah then informs them that Declan is there, and he and Ronan are having a fistfight. Gansey tries to break up the brother's fight, then stops it completely when he mentions the Lynch's father. Adam tells Gansey not to tell anybody else about the Glendower legend as he thinks somebody is 'observeing' them. Gansey replies that they're on the right track if someone is spying on them.
Adam then goes back to the diner to apologise for Gansey's 'rudeness' before. Blue explains that it was the fact he [Gansey] offered her money. Adam says that Gansey is stupid when it comes to money. Blue realises that Adam is different to other Raven Boys, him riding a bike there for example, and gives him her home phone number. After he cycles off, Donny, the manager, is holding Gansey's leather journal, Blue then takes it saying that she will give it back. She then cycles home.
At midnight, Gansey gets a call from his UK friend Roger Malory, informing him that the ley line needs to be woken for proper exploration and suggests a ritual. After they hang up, Gansey discovers that Ronan is missing and is terrified as Ronan, who was found by Noah, tried to kill himself before. He phones Adam and informs him that he is missing, and Adam sneaks out to look for him at the park and bridge. After they hang up, Noah appears and tells him to check the church, since Noah was the one who found him previously, and Gansey goes there first, where he finds Ronan drunk on a pew. He also finds a baby raven in Ronan's arm, which Ronan says he found in his head, and named her Chainsaw.
Whelk is now thinking about how he was once an Aglionby student, and how he was searching for the ley lines with his friend Czerny, who is now dead. He also thinks about the time when his life went to ruins after his father had been arrested that changed his life over night. Czerny pulled up his red Mustang the next day and joked that he was 'white trash'. Whelk then informed him that they were doing the ritual.
The next morning, Blue overhears her mother and Neeve talk about Blue's father, who Blue has never met before. She then goes back to bed, but wakes herself up by realizing that Gansey's psychic reading is today, and then reads one quote from Gansey's journal which she found interesting. She then goes to Persephone for help understanding the quote. Persephone suggests that she should first find out whose journal it is, then find out if the quote is true.
Elsewhere, Gansey is waiting for Adam near his home to take him to class, after waiting for a long time he decides to go to school, hoping the worst hasn't happened to Adam again. At the academy, Gansey who is on the way to Latin, has still not seen Adam yet. Ronan appears, acting a bit suspicious, and asks where Adam is, this upsets Gansey as Ronan and Adam were surpose to have the same class before. They get interrupted by another student called Kavinsky, who is angry at Ronan because Ronan beat him at drag racing.